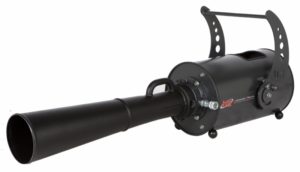 The UE Extra Shooter 3″ is a compact confetti machine used to throw up confetti up to 8 to 10 m through a small size venturi tube. Designed to be hung or set on the floor it is powerful easy to use and highly efficient.
You can electronically control shoots using following optional equipments: Power Electrovalve Eco and DMX switcher,
TECHNICAL CHARACTERISTICS :
Dimensions: L 135 x W 52 x H 50 cm
Weight: 10.2 kg
To be used with non-liquid CO2 gas.
High Pressure: 50 bar at 20°C.
Supplied with 1 x Large Co2 Bottle (can be supplied with out Co2 if required)
Day Rate

£125

Week Rate

£250