6″ Dot effect wheel for Solar 250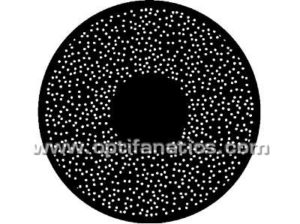 One of the most effective yet very simple effect wheels available. Use this effect with smoke or haze to produce stunning moving beams of light similar to that of sunlight through trees. Perfect for atmospheric effects above bands on stage, in theatrical productions or setting the scene in museums/theme parks or classy night venues.
A 6″ Wheel Rotator is required to use a 6″ Effect Wheel on an OPTI Projector . For a Solar projector (e.g. Solar 250 or Solar/Sensory LED) you'll need a Solar Wheel Rotator or the Solar Dual Wheel Rotator if you want the flexibility of using both 6″ Wheels or 9″ MAX Wheels.
To view the effect click here
Day Rate

£10

Week Rate

£20