DOUGHTY 3 POSITION TANK TRAPS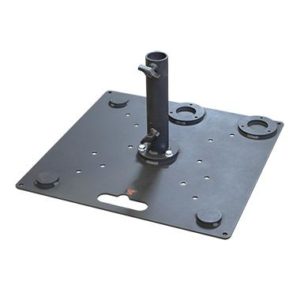 The 3 position Tank Trap is a multipurpose floor plate to suit 48mm barrel and truss. Fitted with a removable receiver which may be bolted in the center, at the edge or in the corner of the plate. With the receiver removed the plate may be inverted and used as a base plate to suit various sizes of the truss. It does not include truss connectors or fixings to mount truss to the plate. Broadly used in the entertainment industry in places such as theatres, event venues, museums etc. For any inquiries, please contact us via chat.
Features:
600mm square plate with 50mm receiver
48mm diameter aluminum barrel or galvanized scaffold pole can be fitted and secured vertically into the tank trap
The barrel is perfectly used to suspend lighting fixtures, video projectors, sound systems and set pieces
Tank traps are flexibly used as a standalone system or as part of a larger installation
Cut out the base to allow compact stacking for transport and storage.
Special price For 10 – £125 inc transport dolly
Day Rate

£15

Week Rate

£30