Betapack 3 6x10A DMX Dimmer Pack 12xCEE17 16A Outlet 4U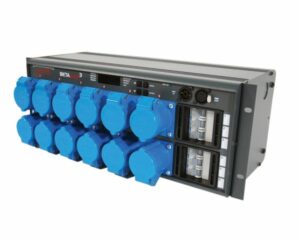 Zero88 Betapack 3 with 12 x CEE17 16A Outlet
The Betapack 3 range of 6 channel dimmer packs offers one of the most cost effective and versatile solutions to dimming currently available. Manufactured to the highest professional standards, this comprehensive range of convection cooled 6 x 10 Amp packs includes variants with sockets to match most global standards. Designed to be rack mounted, installed on a wall or carried, the Betapack 3 is suitable for a wide range of applications from amateur to professional, education to TV.
Betapack 3 series dimmers have served the lighting industry for nearly 20 years and remain a firm favourite in lighting rental, installation and portable applications. Based on tried and tested technology, these robust, reliable, digitally controlled dimmer packs are incredibly versatile. Whether it's for schools, theatres,or TV Studios worlwide, these dimmers provide the core component of lighting systems globally. Betapack 3 includes variants with sockets to match most global standards. The Betapack 3 range is supplied with MCBs on every channel, giving you peace of mind and maximum protection. The versatility of the Betapack 3 means it can be 19" Rack Mount or installed on a wall using the brackets supplied, or made portable by adding the optional "Easicarry" kit consisting of a handle and four feet. Its legendary reliability and durability make it the dimmer of choice for many thousands of venues worldwide.
MCB protection
Isolated DMX input
Patchable per channel
Preheat, Topset and Dimmer Law selectable per channel
12 backup memories
3 x 99-step sequences with adjustable times
Automatic DMX termination when loop-through plug is removed
RDM Enabled
Auto frequency tracking
Lock and Reset functions
Temperature monitoring
Convection cooled
DMX addressing via front panel selectors
DMX Status indication
Input 32a Three phase, can be adapted if required.
Day Rate

£25

Week Rate

£50