Avolites Titan Mobile + Wing Package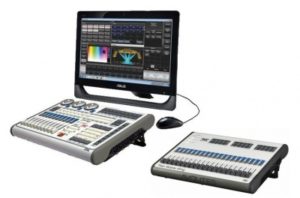 Avolites Titan Mobile binds the awesome power of Titan software with a compact and lightweight unit that connects to your laptop to produce a fully featured moving light control system. Small enough to carry hand luggage on flights large enough for complex shows, transferable shows to and from any other Titan based console.
Titan Mobile Wing gives direct access to your most used items, such as Shape Overlay Cues, Blinders, House Lights, Smoke Machines or Performer Key Lights for TV productions. A generous 30 user-programmable Executors offer control or selection of Cues, Lists, Palettes, Groups or Macros.
Live Playbacks, Solo and Flash buttons, user programmable buttons and Attribute controllersenable fast and accurate show programming in a flight friendly package.
The Titan Mobile Wing is compatible with all Titan consoles (except the Titan One).
Day Rate

£150.00

Week Rate

£450.00